Accommodations
Krystal Cancun - Cancun Mexico - Beach Resort
Since the moment you check in to your room in paradise, you will see that the Krystal Cancun has thought of everything to make your stay incredibly comfortable. Every hotel room is outfitted with marble floors, a mini bar, electronic safety deposit box, flat screen TV, interactive movies, and access to long distance calls. We also offer a limited number of connecting rooms and rooms equipped for the physically challenged.
Wake up each morning to a stunning view of the water as the sun rises in the sky and end your day with a picture-perfect sunset followed by twinkling stars over a midnight sky.
The following types of hotel room and suite accommodations are available at the Krystal Cancun:
Standard Guestrooms
Deluxe Ocean View Guestrooms
Family Suites
Krystal Club Rooms
Romantic Rooms
Junior Suite
Master Suite
President Suite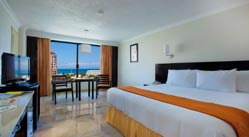 Standard Guestrooms
A 365 sq. feet and with floor to ceiling windows offering panoramic views of either the Caribbean Sea or Cancun Lagoon, there is nothing "standard" about these hotel rooms. Choice of king bed or two double beds. Maximum occupancy of 4 guests.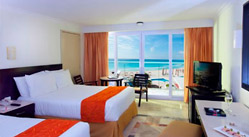 Deluxe Ocean View Guestrooms
A 365 sq. feet and balconies offering panoramic views of the Caribbean Sea. Choice of king bed or two double beds. Maximum occupancy of 4 guests.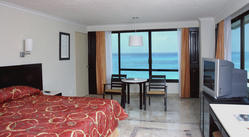 Family Suites
Approximately 730 sq. feet, these spacious suites consist of two connecting Deluxe Rooms (guaranteed), and are located in the main tower of the hotel. With two bedrooms and two bathrooms, guests enjoy one king bed and two double beds. Maximum occupancy of 5 guests.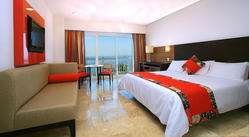 Krystal Club Rooms
To pamper yourself while on vacation, choice these sleek, new 345 sq. feet rooms, which feature fluffy white King or two Double beds accented with dark woods & tropical colors, rain showers, LCD televisions, and a private balcony with panoramic ocean views. The Club Rooms also include access to the luxurious ocean view Krystal Club Lounge, with Club amenities including:
Daily continental breakfast
Coffee & pastries daily
Afternoon Hors' D'oeuvres
Private check in & out
Free access to fitness center
Complimentary WiFi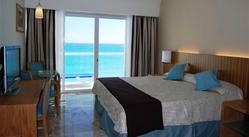 Romantic Rooms
These luxurious hotel rooms are 334 square feet and are located in an oceanfront building. They feature a plasma screen TV, oversized windows, a private balcony with sun chairs, and king-sized bed with a maximum occupancy of 2 guests. The Romantic Rooms also include:
Bottle of sparkling wine
Bathrobes & slippers
15% discount on massages
15% discount at El Mortero Restaurant
Krystal Club services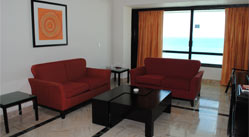 Junior Suite
This oceanfront One Bedroom Junior Suite is 730 sq. feet and features a King bed in the bedroom with a spacious living area. With special bathroom amenities, bathrobes, a private terrace, and maximum occupancy of 2 guests, this Suite is perfect for couple getaways.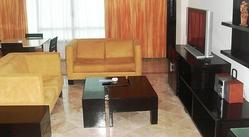 Master Suite
For guests wanting to treat themselves with a bit more space, or travelling with a larger family, this 1150 sq. foot Two Bedroom Master Suite offers everything they could imagine! With one bedroom featuring a King bed, and the other featuring two double beds, the Suite can comfortably accommodate four adults and two children. The Suite also offers a spacious living area that opens on to the private ocean view terrace, with loungers and the Master Suite´s very own dipping pool.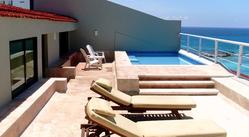 Presidential Suite
Luxury doesn't come any better than our Presidential Suite! At 1,095 square feet, it features Krystal Club Services, as well as full VIP treatment, a private bedroom with king bed, living room with flat screen TV, and the ultimate in luxury, a 730 sq. foot terrace with a private dipping pool overlooking Cancun and the Caribbean Sea. Maximum occupancy of 2 guests
EC One Bedroom Suite
With terrace
EQUIPMENT Furnished with novel and luxurious materials - European marble - living area with sofa separated by sliding doors - king size four posted bed - complete bathroom - Jacuzzi - independent walk in shower with three functions (rain, massage and soft) - independent room service door - modern plasma TV - radio / alarm clock - independent air conditioning control - ceiling fan - satellite TV - DVD - telephone - hi-speed internet connection ($) - mini bar - safe deposit box - coffee machine - working desk - iron and ironing board - bath ropes and slippers - terrace - Majestic Supreme Service Amenities:
Pool areas with "Bali style" beds
Private and personalized check in
Complementary late check out (based on availability)
Two private ocean front roof top bars with hors d oeuvres and drinks
VIP lounge at the lobby with library, table games and free internet connection
Exclusive access to "Il Botaccio" Restaurant for breakfast and lunch a la carte
Room service included 24 hours
In room bar selection with up to 4 bottles of liqueur per stay (ej. Vodka, Whisky, Rum, Baileys)
Bottle of champagne in room upon arrival
Access to 13 bars throughout the property (4 bars exclusive for adults)
Butler service during your stay
Express bell boy service
Surprise gift in room
In room beach towels
Pillow menu
Aromatherapy for pillows
Robes and sleepers in room
Bath Kit
DVD's selection
In room newspaper
Majestic Touch during the stay
Espresso machine in room (suites only)
MEASUREMENT: 1064 sq.ft. / 100 m2
OCUPACIÓN: 4 adultos (18+)
EC Ocean View Suite
With Ocean views andexterioir Jacuzzi
EQUIPMENT Furnished with novel and luxurious materials - living room with sofa separated by sliding door - European marble - king size four posted bed - complete bathroom - Jacuzzi - independent walk in shower with three functions (rain, massage and soft) - independent room service door - modern plasma TV - radio / alarm clock - independent air conditioning control - ceiling fan - satellite TV - DVD - telephone - hi-speed internet connection ($) - mini bar - safe deposit box - coffee machine - working desk - iron and ironing board - bath ropes and slippers - terrace - outdoor jacuzzi - ocean views - Majestic Supreme Service Amenities:
Pool areas with "Bali style" beds
Private and personalized check in
Complementary late check out (based on availability)
Two private ocean front roof top bars with hors d oeuvres and drinks
VIP lounge at the lobby with library, table games and free internet connection
Exclusive access to "Il Botaccio" Restaurant for breakfast and lunch a la carte
Room service included 24 hours
In room bar selection with up to 4 bottles of liqueur per stay (ej. Vodka, Whisky, Rum, Baileys)
Bottle of champagne in room upon arrival
Access to 13 bars throughout the property (4 bars exclusive for adults)
Butler service during your stay
Express bell boy service
Surprise gift in room
In room beach towels
Pillow menu
Aromatherapy for pillows
Robes and sleepers in room
Bath Kit
DVD's selection
In room newspaper
Majestic Touch during the stay
Espresso machine in room (suites only)
MEASUREMENT: 1064 sq.ft. / 100 m2
MAXIMUM OCCUPANCY: 4 pax (4 adults 18+; 3 adults; 4 adults)