Contact Us
Krystal Cancun - Cancun Mexico - Beach Resort
Vacation Store Miami offers All Inclusive Vacations at unbelievable discounts on an extensive selection of resorts in the Caribbean. Let our professional staff help you find your perfect family vacation, weekend getaway, spring break vacation or that special honeymoon.
Why choose Vacation Store Miami?
Guaranteed best prices on Caribbean Vacations.
Over 15 years of experience.
Did we mention BEST PRICES?
Satisfying our Guests is our principal aim. Therefore we would like to facilitate the reservations process with our telephone reservations service. If you need help, contact us by phone or EMAIL US.
Call Us Nationally at 1(888) 774-0040 or at (305) 774-0040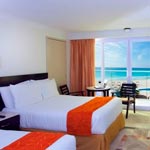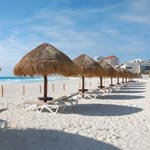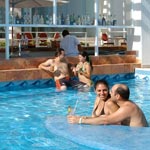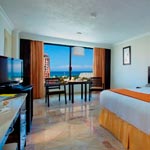 All-Inclusive Program
Breakfast, Lunch and dinner buffet
Dinner during operational hours
Dinner at the Mexican specialty restaurant, Hacienda el Mortero, with house wine by the glass.
Drinks during bar operational hours. Domestic and selected international brands of the KRYSTAL ALL INCLUSIVE PROGRAM
*Bottles of water in the room (restocked daily)
Snacks from 12 to 5 pm by the pool area
Aquatic sports available at the hotel's marina by presenting the All
Inclusive bracelet
Free use of the gym (Massages 20% off)
Room service 24 hours (light snacks from 11 pm to 6 am)
Dine out "Discover Cancun" Program: Dinner at any of the preferred restaurants accordingly to dine out program
Recreational activities during the day
All tips and taxes included
All Inclusive is not applicable in minibar
Surcharge in fine cuts, shrimps and lobsterUS$18 per person + 11% tax + 15% service
*Christmas and New Year's Eve Gala dinner is not included. A surcharge is optional.
A MODERN RESORT IN THE MIDDLE OF IT ALL The Krystal Cancun invites you to take a very well-deserved vacation and enjoy the enormous wealth that this Mexican destination has to offer, from Mayan archeological sites, which stand as silent witnesses of the cultural past, to the modern bustling city atmosphere. Krystal Cancun awaits you with 453 contemporary and modern rooms which feature stunning views of the Caribbean Sea with its breathtaking sunsets, making it the perfect resort for families, couples, honeymooners, destination weddings, business meetings, and social events. You can enjoy the panoramic infinity style pool and Jacuzzi, take a break in the Bali day beds, or exercise your body and spirit at the Fitness Center, while your children have fun at the kids play area. Discover the excellent gastronomy of the renowned Hacienda El Mortero Restaurant, with its gourmet Mexican cuisine enlivened by the traditional Mariachi. It is all here waiting for you
FACILITIES
This is the place to pamper yourself in the spa, let us help you make arrangements for a rental car or a tour of Cancun, or provide recommendations on places to dine, shop, sightsee, and more. All you need to do is ask.
While you are relaxing here in Cancun, we provide an extensive variety of services and amenities to ensure your stay is everything you want it to be. This includes the ability to order 24 hour room service if you prefer a meal in the comfort of your room or suite; the convenience of towels and chairs at our Beach Club, laundry service, and WiFi throughout the hotel. Additionally, we have a travel agency to assist with last-minute arrangements, plus babysitting services (at an additional cost) and a physician on call (at an additional fee) should you require medical assistance.