Restaurants & Bars
Krystal Cancun - Cancun Mexico - Beach Resort
Since the moment you check in to your room in paradise, you will see that the Krystal Cancun has thought of everything to make your stay incredibly comfortable. Every hotel room is outfitted with marble floors, a mini bar, electronic safety deposit box, flat screen TV, interactive movies, and access to long distance calls. We also offer a limited number of connecting rooms and rooms equipped for the physically challenged.
Wake up each morning to a stunning view of the water as the sun rises in the sky and end your day with a picture-perfect sunset followed by twinkling stars over a midnight sky.
The following types of hotel room and suite accommodations are available at the Krystal Cancun:
El Mortero Restaurant
Aquamarina Restaurant
Las Velas Restaurant
Lobby Bar
Cascada Bar
Beach Bar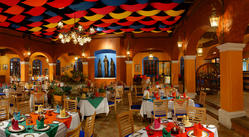 El Mortero Restaurant
Relive the charm of Old Mexico in an authentic hacienda-style restaurant, with gourmet Mexican fare at its best, while being accompanied by the soulful serenades of the mariachi. A la carte service for dinner only, reservation required. Dress code: casual elegant (slacks are required for men)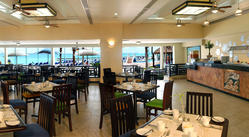 Aquamarina Restaurant
A delicious variety of local and international dishes served in an air-conditioned area overlooking the pool. Try mouth-watering Mexican specialties at the breakfast buffet. Lunch and Dinner are a la carte. Open from 7:00 a.m. to 11:00 p.m.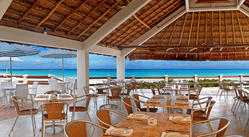 Las Velas Restaurant
Situated conveniently by the main pool, the restaurant allows you to enjoy snacks, as well as delicious surf and turf specialties, while experiencing an amazing view of the sweeping beach and Caribbean Sea. Buffet Lunch is served seasonally and a la carte service available. Open from 11:00 a.m to 5:00 p.m.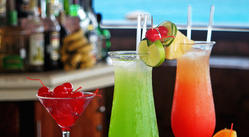 Lobby Bar
The perfect meeting place with drinks, cocktails, billiard tables, and of course, a daily Happy Hour! Open from 10:00 a.m. to Midnight.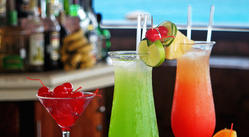 Cascada Bar
Relax on your own swing seat with refreshing drinks served by the infinity whirlpool. From 10:00 a.m. to 6:00 p.m.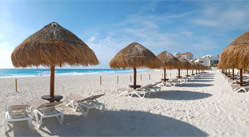 Beach Bar
Sunbathe in comfort on padded lounge chairs and your own palapa. With appetizer service, tropical snacks, and drinks, this is the ideal place to relax. Open from 10:00 a.m. until 5:00 p.m.
EC One Bedroom Suite
With terrace
EQUIPMENT Furnished with novel and luxurious materials - European marble - living area with sofa separated by sliding doors - king size four posted bed - complete bathroom - Jacuzzi - independent walk in shower with three functions (rain, massage and soft) - independent room service door - modern plasma TV - radio / alarm clock - independent air conditioning control - ceiling fan - satellite TV - DVD - telephone - hi-speed internet connection ($) - mini bar - safe deposit box - coffee machine - working desk - iron and ironing board - bath ropes and slippers - terrace - Majestic Supreme Service Amenities:
Pool areas with "Bali style" beds
Private and personalized check in
Complementary late check out (based on availability)
Two private ocean front roof top bars with hors d oeuvres and drinks
VIP lounge at the lobby with library, table games and free internet connection
Exclusive access to "Il Botaccio" Restaurant for breakfast and lunch a la carte
Room service included 24 hours
In room bar selection with up to 4 bottles of liqueur per stay (ej. Vodka, Whisky, Rum, Baileys)
Bottle of champagne in room upon arrival
Access to 13 bars throughout the property (4 bars exclusive for adults)
Butler service during your stay
Express bell boy service
Surprise gift in room
In room beach towels
Pillow menu
Aromatherapy for pillows
Robes and sleepers in room
Bath Kit
DVD's selection
In room newspaper
Majestic Touch during the stay
Espresso machine in room (suites only)
MEASUREMENT: 1064 sq.ft. / 100 m2
OCUPACIÓN: 4 adultos (18+)
EC Ocean View Suite
With Ocean views andexterioir Jacuzzi
EQUIPMENT Furnished with novel and luxurious materials - living room with sofa separated by sliding door - European marble - king size four posted bed - complete bathroom - Jacuzzi - independent walk in shower with three functions (rain, massage and soft) - independent room service door - modern plasma TV - radio / alarm clock - independent air conditioning control - ceiling fan - satellite TV - DVD - telephone - hi-speed internet connection ($) - mini bar - safe deposit box - coffee machine - working desk - iron and ironing board - bath ropes and slippers - terrace - outdoor jacuzzi - ocean views - Majestic Supreme Service Amenities:
Pool areas with "Bali style" beds
Private and personalized check in
Complementary late check out (based on availability)
Two private ocean front roof top bars with hors d oeuvres and drinks
VIP lounge at the lobby with library, table games and free internet connection
Exclusive access to "Il Botaccio" Restaurant for breakfast and lunch a la carte
Room service included 24 hours
In room bar selection with up to 4 bottles of liqueur per stay (ej. Vodka, Whisky, Rum, Baileys)
Bottle of champagne in room upon arrival
Access to 13 bars throughout the property (4 bars exclusive for adults)
Butler service during your stay
Express bell boy service
Surprise gift in room
In room beach towels
Pillow menu
Aromatherapy for pillows
Robes and sleepers in room
Bath Kit
DVD's selection
In room newspaper
Majestic Touch during the stay
Espresso machine in room (suites only)
MEASUREMENT: 1064 sq.ft. / 100 m2
MAXIMUM OCCUPANCY: 4 pax (4 adults 18+; 3 adults; 4 adults)